About Designly Media Studios

Hi! I'm Wayne Glassbrook, sole proprietor of Designly.net. I'm a freelance designer based in Lansing, Michigan with over a decade of professional web and graphic design experience.
Designly is a complete media design studio created to provide web and graphic design services to individuals and businesses who wouldn't normally be able to afford the high fees demanded by most design firms.
I focus on full standards compliant web design which ensures compatibility across browsers and platforms as well as increased search engine optimization while bringing the latest in modern design principles to all of my projects.
I am also a certified Social Media Specialist! That means I know how to wrangle social web sites like Twitter and Facebook to help you reach a broader audience across the web.
As a full fledged design studio, I also offer 3D design services as well as audio and video production and editing.
I have the expertise in todays latest design methods and tools. What are you waiting for? If you need something all awesomed-up and stuff contact Designly.net!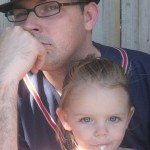 Wayne Glassbrook
wayne@designly.net